What Gifts Should You Bring Back from Poland?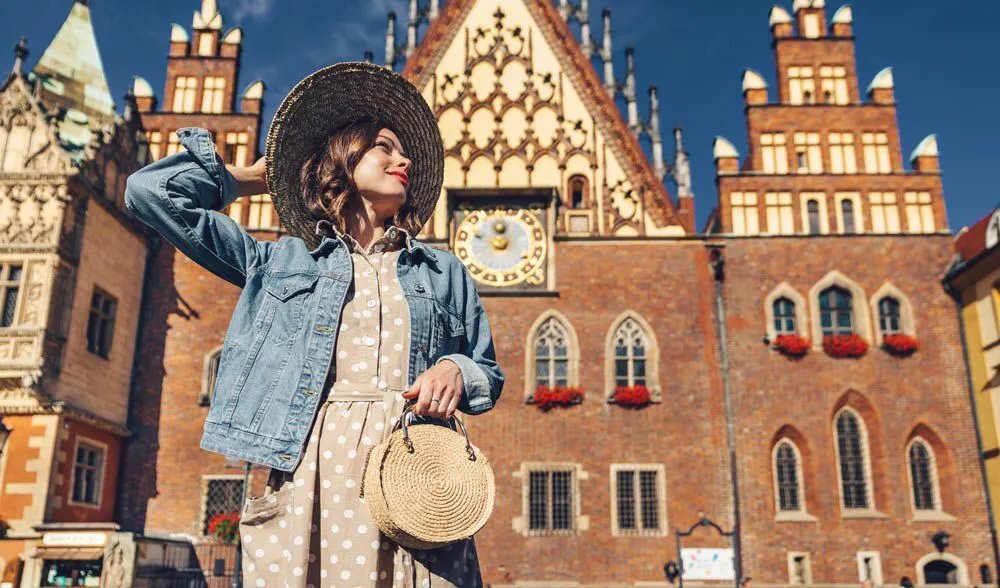 Making a trip to Poland soon? After seeing all the sights, you'll want to make sure you don't leave empty-handed. In Poland, you can find some incredibly unique and authentic souvenirs to bring home. From coveted amber jewelry to wooden handicrafts, there's something for everyone on your list. Don't forget to get yourself something too, so you can always remember your travels to this charming European land.
While you'll see plenty of things you'll want to bring back, these gifts are the ones you should bring back with you from Poland.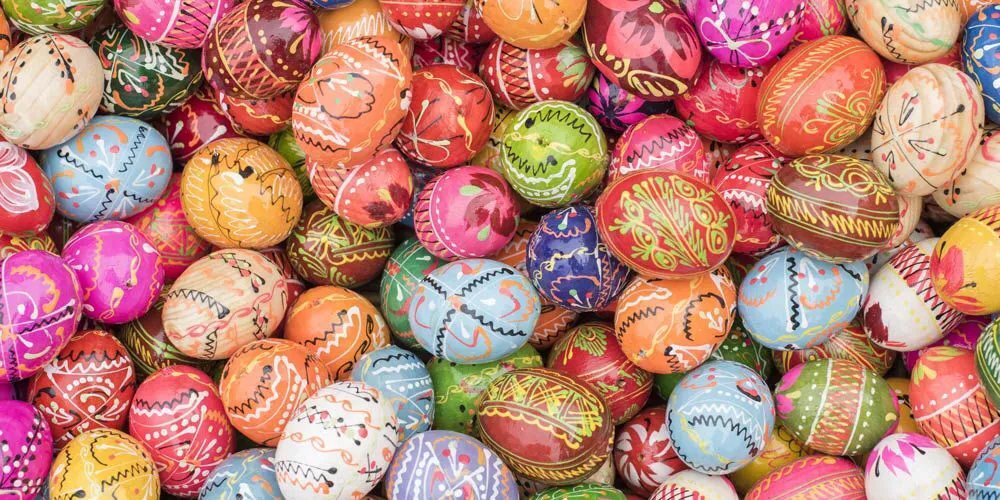 - Painted Wooden Easter Eggs
You can find them in more delicate materials too, but wooden Easter eggs are ideal for long journeys overseas. The patterns reflect the regions and make a lovely treasure to behold for years to come. Display them in your home and everyone that visits will always ask about them. They're just too beautiful not to notice!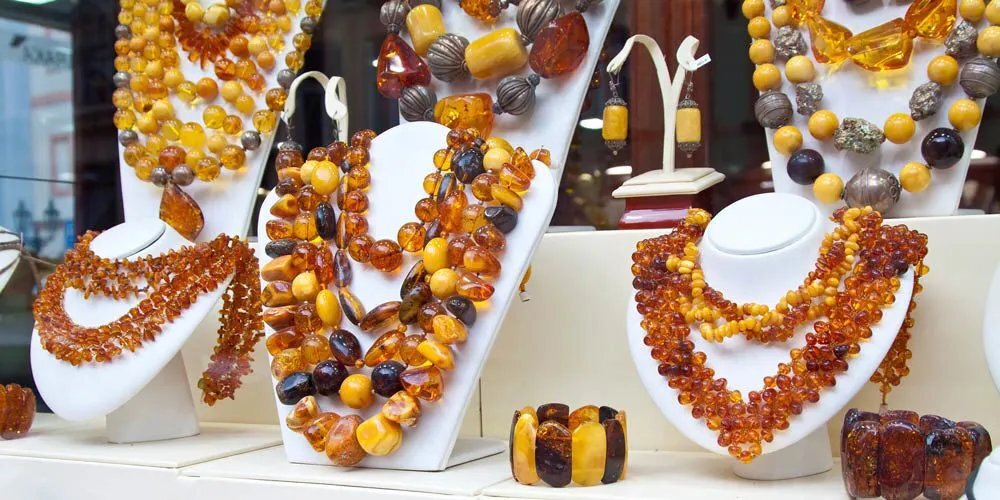 Poland is the best country for buying amber jewelry. In Polish tradition, it was considered a remedy for illnesses. You will find tons of amber jewelry while you're in Poland, though Gdańsk will have the biggest selection you'll find.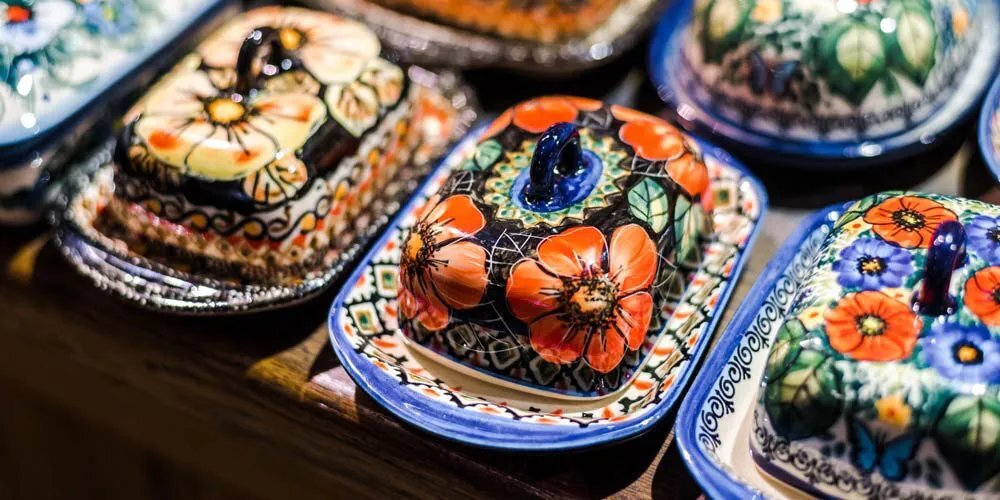 - Bolesławiec Pottery
The small town of Bolesławiec is easy to get to from Wrocław. These beautiful ceramics are a treasure to bring back, making a great addition to your kitchen décor or tableware. They've been making these ceramics since the early 19th century and every piece is hand-decorated so they are all individually unique.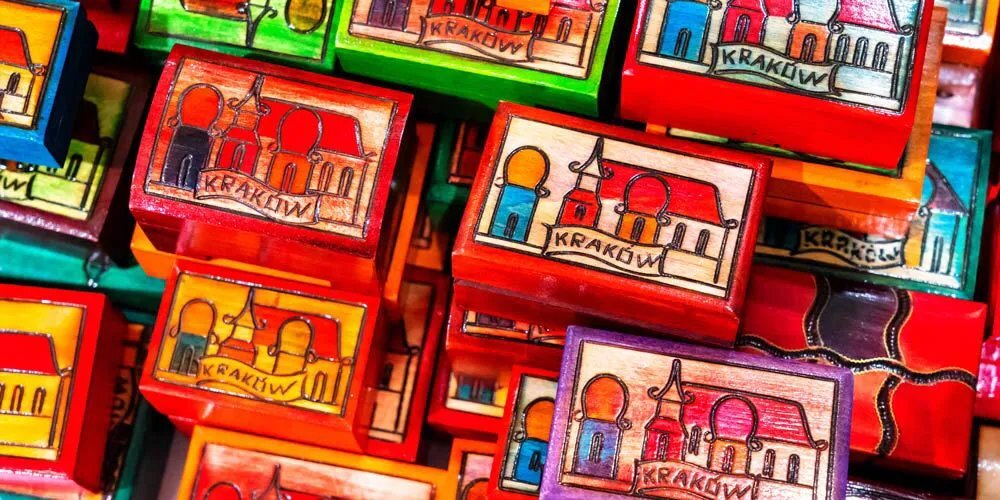 - Wooden Carvings
The intricate wooden carvings you'll find in Poland are another gift you should bring back from Poland. Like amber jewelry, they are coveted gifts that make a fine Christmas gift. You'll find these hand-carved creations designed to look like birds, angels, and other beautiful things.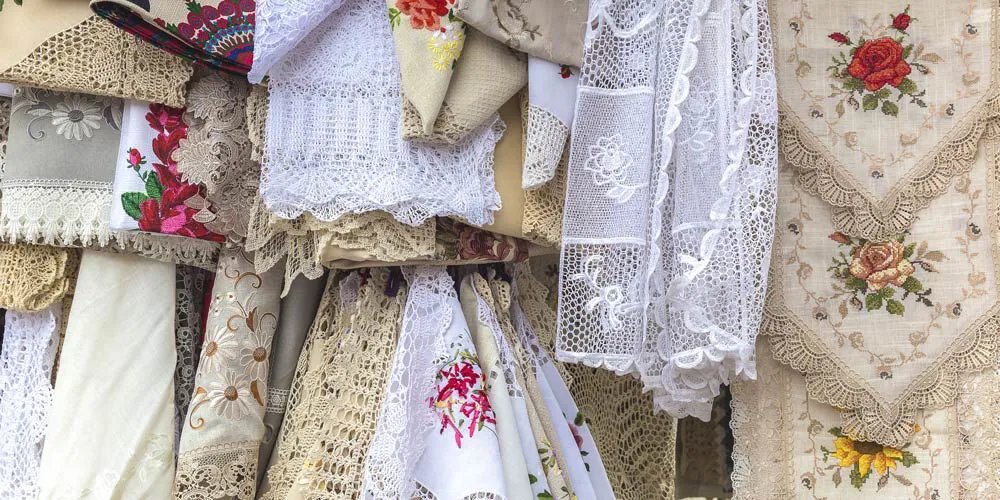 - Embroidered Linens
Treat yourself to something beautiful and useful for your home. Polish linens are embroidered with intricate designs that will make your place settings at the holidays more regal. You can see the quality and pride in the stitching and find colors and patterns that suit your aesthetic. These would make a perfect housewarming gift to bring back from Poland to someone special at home.
- Polish Skincare and Makeup Products
While South Korea gets all the love for skincare, don't overlook Polish skincare products. There are many organic and vegan brands that hold their own like Resibo, Iossi, and Mokosh. You'll find them in the Polish drugstores so check them out. As for makeup, Inglot is a must for any woman. You can steal the beauty secrets of flawless Polish women by finding the nearest mall and looking for the Inglot stores for eyeshadows and lipsticks you'll love.
- Gingerbread
How about something sweet for your souvenir? While giving amber jewelry may be the sweetest gift of all, if you're bringing something back from Poland to give to kids, choose gingerbread from Toruń. This stuff is baked from a recipe that's over 700 years old. They make the dough by hand, a tradition that was upheld to welcome the king. Most people say it's the best gingerbread they've ever had. You've simply got to try it!
- Polish Vodka
Some say Russia has the best vodka, but Poland surely makes some of the best there is. It's perfect to bring back for friends and family that enjoy celebrating with drinks. If you want a truly authentic brand, go for Żubrówka which has a blade of grass in the bottle as a trademark.
- Kabanosy
Love meat or know someone that does? This dry Polish sausage is long and thin, made from corned pork that is carefully dried and then smoked for spectacular flavors. They make a great snack on the go, which you hopefully won't eat all of before arriving back home. Buy some extra just in case!
- Traditional Polish Candy
The sweet treats you'll find in Poland are so delicious, you won't want to leave without them. Ptasie Mleczko is one of the best, a vanilla-flavored milk candy coated with milk chocolate. The fudges (called krówki) and hard candies called kukułki are also divine. The latter of the two is a caramel with cocoa filling and a touch of alcohol.
- Hard Smoked Cheese
Oscypek is made from sheep's milk, a cheese you'll find in just about every touristy place. Make sure it has a certificate though as there are imitations that try but never come close to the original. This cheese is a wonderful gift to bring back from Poland to someone that loves gourmet foods.
- Pickled Cucumbers
If you have a vegetarian or vegan friend back home, you can bring back authentic pickles from Poland. They're different than what you're used to in the best possible way. The long fermentation process ensures they have a quality taste that you'll likely board another plane to come back for, unless you bring them home with you now.
Poland has some truly spectacular gifts for you to bring back from your travels. You'll want to keep some souvenirs for yourself and make sure to bring them back for friends and family too. These gifts range from delicious with the Polish foods to gorgeous with the handicrafts. Amber jewelry is an absolute delight to buy in Poland, though if you're not able to go right now, you can always order your amber jewelry from Holiday Gift Shops any time. It comes with certificates of authenticity so you'll know you're only get the best from Poland.