If you're looking for a unique and beautiful piece of jewelry, you may want to consider buying a certified gemstone. Gemstones are available in a variety of colors and styles, and they can be found in many different stores throughout the United States. However, not all gemstones are created equal; some stones may be more valuable than others. If you're interested in buying a certified gemstone, here is some information on where to go and what to look for.
While some may prefer the more traditional route of visiting a brick-and-mortar store when making a gemstone purchase, others are drawn to the vastness and convenience of online shopping. And certified gemstones in the USA can be especially tricky to find outside of the internet. Unless you have a particular dealer in mind, it can be hard to know whether or not you're getting a good deal on a quality stone. Moreover, with the wide array of choices available online, it can be difficult to make a decision about which gemstone is right for you.
However, by taking the time to do some research and reading reviews, you can find a reputable online dealer who offers certified gemstones at a fair price. With a little effort, you can find the perfect stone without even having to leave your home.
You can always rely on receiving a gemological report with every certified stone you purchase. A gemological report is a written document that contains information about the physical and chemical properties of a gemstone. The report is prepared by a qualified gemmologist and is used to help identify the stone and determine its value.
The report typically includes a description of the stone's appearance, weight, cut, clarity, and color. It may also include information about the stone's origins, treatments, and history. Although a gemological report is not required for all purchases, it can be very helpful when considering the purchase of an expensive or rare gemstone.

GIA gemological report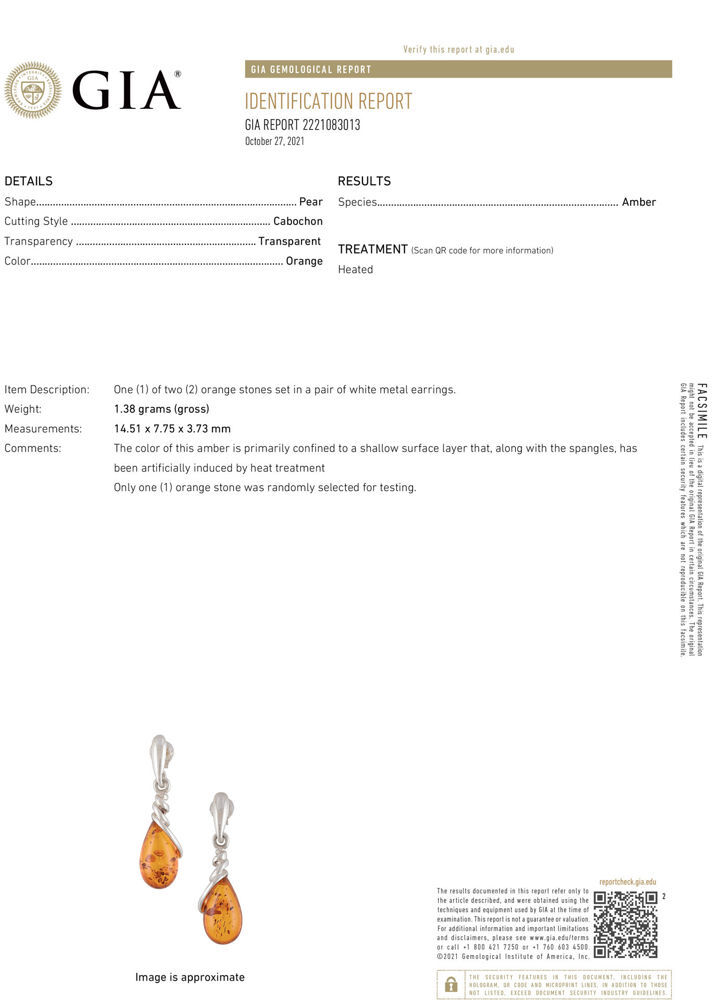 GIA gemological report
The most trusted jewelry certification labs in the US are the GIA (Gemological Institute of America), IGI (International Gemological Institute), and AGS (American Gem Society). These labs issue gemstone certifications that are widely recognized in the industry, and their reports can add significant value to a piece of jewelry.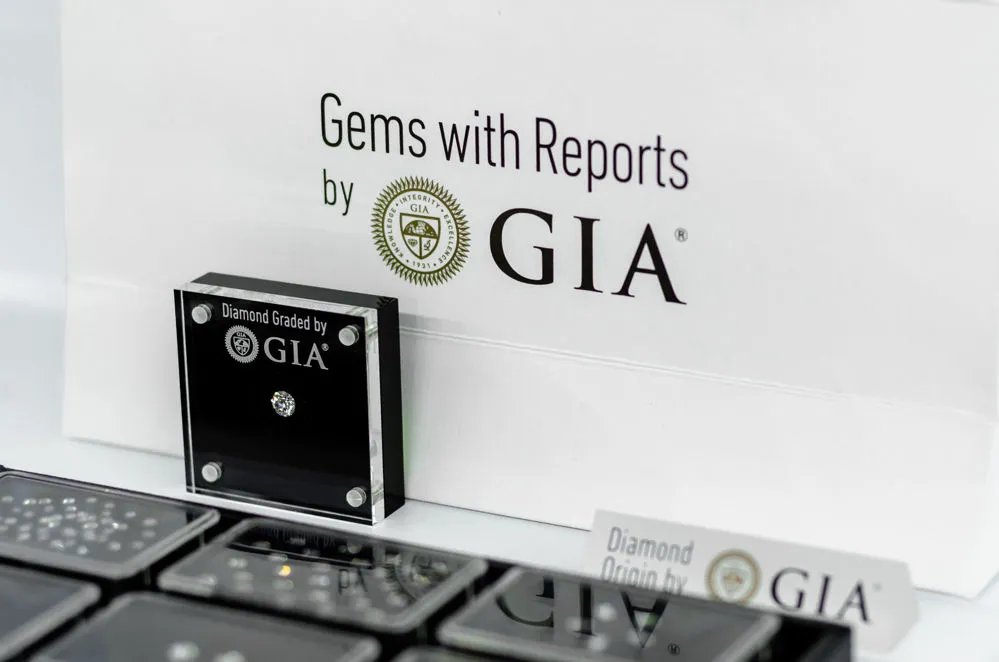 GIA (Gemological Institute of America)
The Gemological Institute of America, or GIA, is a nonprofit organization that is best known for its work in diamond grading and gemstone identification. Founded in 1931, the GIA is now widely considered to be the world's foremost authority on diamonds and other precious stones. In addition to its headquarters in California, the GIA also has offices in Europe, Asia, and Australia.
The GIA's mission is to "ensure the public trust in gems and jewelry by providing the world's foremost gemological education, research, testing, and appraisal services." Over the years, the GIA has played a vital role in setting industry standards and promoting consumer confidence in the jewelry industry. Today, the GIA's global reach and expert knowledge continue to make it a valuable resource for jewelers and gemologists around the world.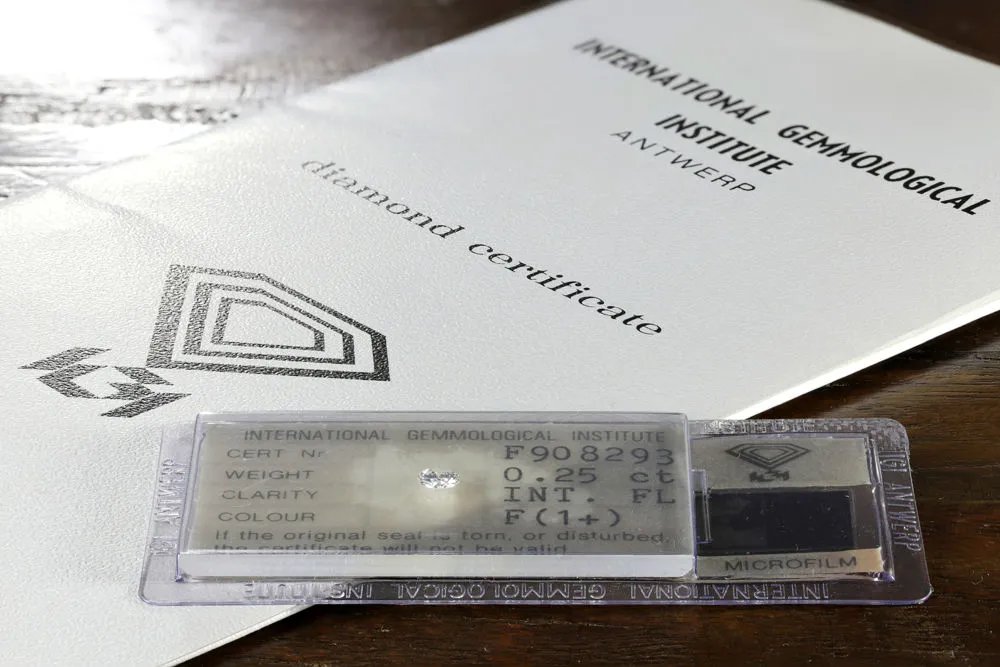 IGI (International Gemological Institute)
The IGI is the world's largest independent gemological laboratory, providing professional services to the jewelry and gemstone industry. Founded in Antwerp in 1975, the IGI has grown to include 15 locations around the world, with over 250 gemologists working to provide accurate and reliable gemological services. From diamond grading and identification to pearl and colored stone analysis, the IGI is dedicated to setting the standards for excellence in the gemological industry.
With a commitment to education and research, the IGI is also one of the leading voices in promoting ethical and responsible practices in the gemstone trade. So whether you're a jeweler looking for expert diamond grading or a buyer searching for a trustworthy source of information, the IGI is your go-to destination for all things related to gems and jewelry.
AGS (American Gem Society)
The American Gem Society is a trade organization that was founded in 1934 by a group of forward-thinking jewelers. The organization's mission is to protect consumers and promote ethical practices in the jewelry industry. Today, the AGS is one of the most respected gemological organizations in the world, and its standards are used by jewelers around the globe. The AGS is also well-known for its stringent certification process, which is designed to ensure that only the finest gems and diamonds earn the coveted AGS label. If you're looking for quality, integrity, and value in your jewelry, then you can be sure that an AGS-certified piece will meet your expectations.
For anyone with a penchant for jewelry, the idea of buying certified gemstones online may seem a bit daunting. After all, how can you be sure that you're getting what you're paying for? Fortunately, there are a few things you can keep in mind that will help to ensure that you're getting the real deal. First, look for online retailers that have a good reputation and plenty of positive customer reviews. Second, make sure that the website offers secure payment options and provides tracking information for your order. Finally, take advantage of any gem experts or certification services that the retailer may offer. By following these simple tips, you can be confident that you'll end up with the perfect piece of jewelry to add to your collection.
Top 5 Online Certified Jewelry Retailers:
gempundit.com
Gempundit.com is an online retailer specializing in loose diamonds and gemstones. With over 15 years of experience in the industry, Gempundit.com has built a reputation for offering quality products at competitive prices. Gempundit.com offers a wide range of diamonds and gemstones, including diamonds of all shapes and sizes, colorless and fancy colored diamonds, and natural and created gemstones.
Gempundit.com is committed to providing excellent customer service and provides a 30-day money-back guarantee on all purchases. Whether you're looking for the perfect diamond engagement ring or a stunning piece of jewelry, Gempundit.com is your one-stop shop for all your diamond and gemstone needs.

If you're looking for unique jewelry, you need to check out Angara.com. They have a huge selection of both classic and modern pieces, so you're sure to find something that suits your style. And if you're not sure what you're looking for, their helpful staff is always happy to assist. But the best part about Angara.com is their prices. They offer great discounts on all their jewelry, so you can get the perfect piece without breaking the bank. So don't wait any longer, head over to Angara.com and start shopping!
etsy.com
If you're in the market for some certified jewelry, Etsy.com is the place to go. With a wide selection of certified diamonds, emeralds, and other precious stones, you're sure to find the perfect piece to add to your collection. And because all of the jewelry on Etsy is handmade by talented artisans, you can be confident that you're getting a one-of-a-kind piece that will be treasured for years to come.
So whether you're looking for an engagement ring, a pair of earrings, or just a beautiful pendant, be sure to check out the certified jewelry on Etsy.com. You won't be disappointed!
Pre-owned Certified gemstones jewelry :

Jollys Jewellers: jollysjewellers.com
If you're looking for a special piece of jewelry but don't want to spend a fortune, pre-owned certified gemstones are a great option. You can find beautiful pieces at a fraction of the cost of new jewelry, and you'll be supporting sustainable practices by reusing materials. Jollys Jewellers is a great place to start your search. All of their gemstones are certified by independent laboratories, so you can be sure that you're getting a high-quality product.
And because they only sell pre-owned jewelry, you can feel good about your purchase knowing that you're not contributing to the demand for newly mined materials. So whether you're looking for a unique gift or a special treat for yourself, pre-owned certified gemstones are a great option.
Certified Amber Jewelry:


HolidayGiftShops.com
Understanding jewelry can be difficult - there are so many different types, each with its own set of rules. For instance, did you know that not all amber is created equal? Some amber is actually fake and is made from a material called copal. While copal is beautiful in its own right, it doesn't have the same chemical properties as true amber. Real amber is made from the fossilized resin of trees and has been used for everything from jewelry to prehistoric sculptures.
If you're looking for a special holiday gift, make sure you choose certified amber jewelry from HolidayGiftShops.com. They offer many pieces that have been GIA-certified as well as ones that are certified by Amber Experts Lab in Poland; each piece comes with a geological report that guarantees authenticity. The authentic amber jewelry will be perfect for that hard-to-shop-for friend or family member. And best of all, they offer free shipping on all domestic orders and a lifetime warranty on your new treasures, so if something goes wrong you can exchange or return your item anytime after buying without any questions! So why wait? Start your holiday shopping today at HolidayGiftShops.com.
With a little research, you can find the perfect certified gemstone for your needs and budget. Do you want a diamond that is conflict-free? Or are you looking for a gemstone with unique color? With so many options to choose from, it can be hard to know where to start. However, by doing a little research, you can find the perfect gemstone for your needs and budget. Once you have found the right stone, Happy shopping!