While most people know amber in the more common hues of yellow and orange, seeing it in different colors is far more rare. Amber, like any natural creation, takes on different colors. It's an enigma in itself for even with the same type of amber, no two stones will look the same.
Amber is such a beautiful treasure though. The color is influenced by the resin, soil, environment, and water that serves to create it. With weather changes and chemical reactions, it creates a spectrum of stunning colors to choose from with amber. However, despite the wide range of colors, you may have a harder time finding certain hues.
So, what different colors of amber might you find? And which one is the rarest one?
Yellow and Orange Amber
Often called "honey amber," you will see this type of amber most often. It composes up to 70% of all amber. The more bubbles you see will mean a lighter yellow hue. The way it appears can vary too as some amber has a buttery color while other times, it appears more like cognac. You may even find honey amber that has an orange tone to it all the way to a deep brown. With a range of depth from yellow to orange to brown, this amber isn't rare but it is quite a sight to behold and makes for stunning amber jewelry.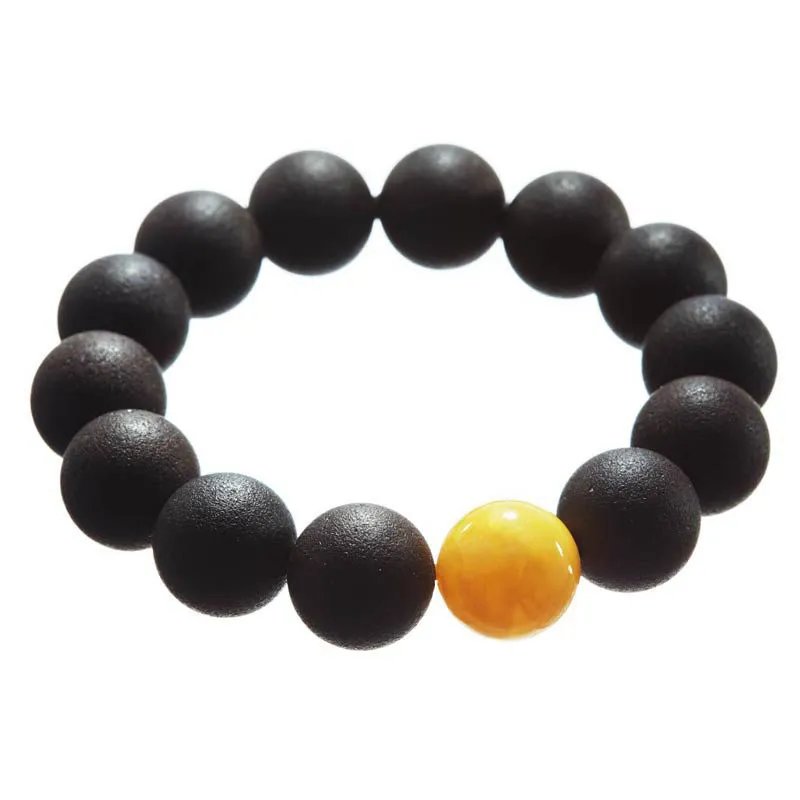 Black Amber
Have you ever seen black amber? Roughly 15% of the amber found in this world is black though it isn't pure fossilized tree resin. Instead, it has been mixed with tree remains and other plant matter. Sometimes, it's made completely of carbonized coal. While it may look black, if you hold it up to light, it will have a different color like dark red, brown, or blue. Some say black amber isn't truly black because of this fact, though the cost is a bit more than yellow and orange amber. Even though it is somewhat rare and a little more expensive, it's not in high demand.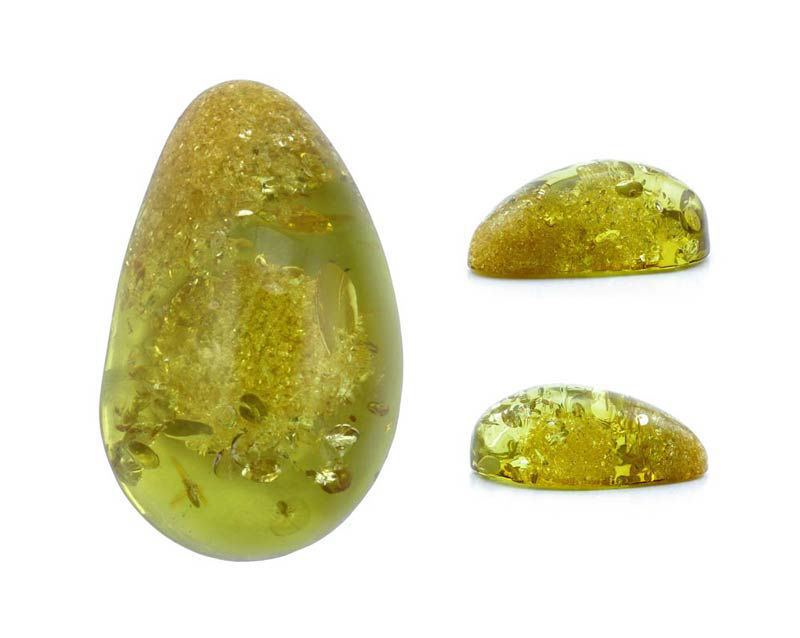 Green Amber
While green amber only makes up 2% of the amber in the world, it's extremely popular. Despite the low percentage, there is plenty of green amber to meet demand. Called "earth amber," it has a shimmery color that can be treated with heat to make it more transparent, and more gorgeous. Some say that it's so coveted because it can bring good fortune, but whatever you believe about it, there's nothing quite so fetching as the color it provides. If you enjoy being complimented on your jewelry and style, choosing green amber jewelry will surely put you at the center of attention!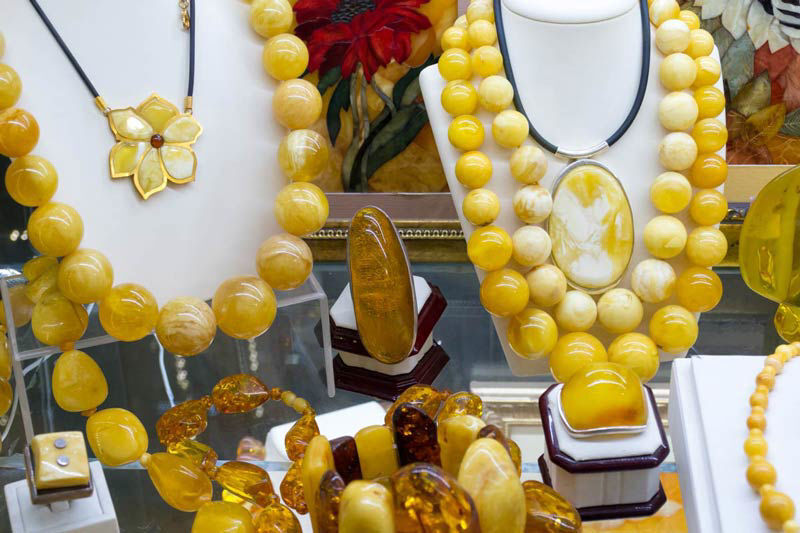 White Amber
The unique texture of white amber is something you may never get the chance to see. It makes up about 1% to 2% of the world's amber. It has decorative swirls in hues of grey, butterscotch, green, blue, or honey. This type of amber is never treated because the natural beauty it holds speaks volumes. If you're lucky enough to receive white amber jewelry, make sure you treasure it well and pass it along as an heirloom for your family to give from generation to generation.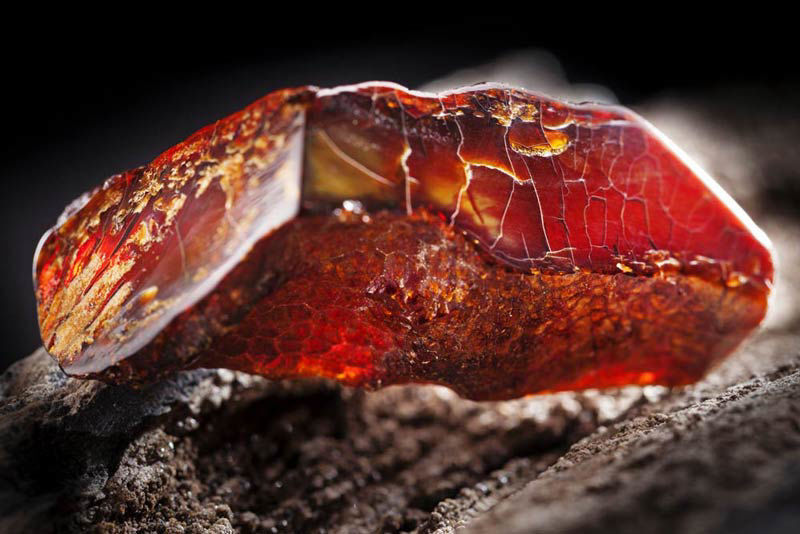 Red Amber
Red amber is considered the second most rare form of amber. It's incredibly expensive and elusive though is most commonly used among rare stone choices when artisans sell amber. Red amber catches the eye and simply looks opulent. Sometimes, it is called "dragon blood." Only one in every 200 amber stones are red amber. The deeper the red, the more exposure it had to the atmosphere, giving it that special color. Red amber isn't transparent and does well with polishing to bring out its natural beauty.
Blue Amber
Of all the colors of amber, blue amber is said to be rarest, but it is relatively new to the industry of gems. You have to catch it in the right light or else you will not be able to tell the difference between blue amber and the yellow-orange-brown amber you commonly see. If shined upon with fluorescent lights, it will reveal a dazzling bright blue. It's an incredible sight to behold!
Clear Amber
Some may argue blue amber is rarest, though that distinction is awarded to clear amber. It is so unusual to find that those who have been lucky enough to discover it will keep it rather than selling it. It is a fascinating marvel, one that preserves prehistoric organisms, feathers, bugs, and plant material with such grace that it will most assuredly get you noticed.
Buying Rare Amber
Are you searching for rare amber colors? You may find that the more common colors suit you just fine, especially when embedded into unique jewelry designs. When you do find rare amber, just like regular amber, it is important to ensure it is genuine. You should obtain certificates of authenticity as amber fakes are all around, even more so for the rarer varieties.
Quality sellers of amber jewelry will always include these certificates for you. If you're looking to find an incredible collection of beautiful amber jewelry in common and less common colors, look no further than Holiday Gift Shops!